Meet Dr. Brandon James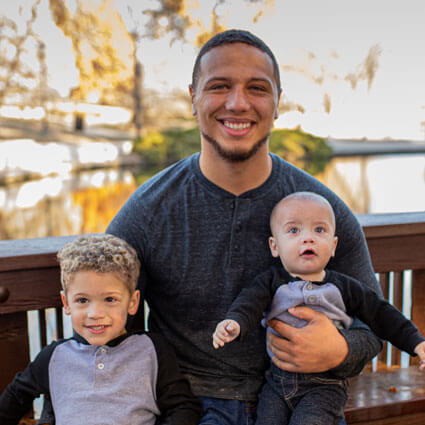 While playing football as an undergrad at the College of Wooster in Ohio, Dr. Brandon experienced a back injury that would flare up every few months. The injury would take him out of commission and he would not be able to enjoy his usual active lifestyle. To get better, Dr. Brandon saw multiple doctors and had physical therapy. "It wasn't until I visited my local chiropractor that I experienced relief and was able to train at a higher level."
Thanks to chiropractic care, Dr. Brandon was able to train the way he wanted to. At the time, he was on the pre-med track though he initially wanted to become a physical therapist. Because of care he received and the relief gained from chiropractic care, he knew he needed to change his career path.
Helping Young Patients Reach Their Full Potential
For Dr. Brandon, the most fulfilling aspect of being a chiropractor is helping people connect with themselves. The father of two young boys is particularly passionate about seeing children reach their full potential and flourish.
"I like to help children with various neurobehavioral challenges to express their true authentic selves." Dr. Brandon feels that many healthcare practitioners put children in a box and apply labels to them. He never uses words like "disabilities" or "disorders" because this puts limitations on the kids. Instead he calls what kids are experiencing to be challenges. " My passion is using chiropractic to help kids reach their full potential and overcome their health challenges."
Becoming a Chiropractor
Dr. Brandon earned a Doctor of Chiropractic from Logan University in St. Louis. He found it fascinating to learn that chiropractic did much more than relieve pain. Though he originally wanted to work with athletes, in his second or third trimester at Logan he started learning about the neurological benefits of chiropractic.
In addition to his doctorate, Dr. Brandon earned a certificate in pediatric and pregnancy chiropractic from Logan. He applied what he learned about pediatric chiropractic to help his older son Brayden, who had chronic constipation issues. Brayden was a premie, and had challenges with bowel movements from birth. As he got older he would resist having a bowel movement because of his discomfort which would lead to 20 to 30 minute sessions on the toilet.  "After adjusting him and making nutrition changes over a few months, he no longer had trouble with his bowel movements."
Providing Friendly Care
When you first meet Dr. Brandon, you'll likely be greeted with a broad smile and likely a handshake or a hug. A self-described "big kid" with a goofy side, he is a huge fan of Batman and superheroes in general. Some people even refer to him as Dr. Batman!
I love being playful and connecting with kids at their level.
Outside Elite Family Chiropractic
When he's not caring for his patients, Dr. Brandon enjoys spending time with his sons, Brayden and Elijah. He also likes to golf during the summer and explore local trails with his older son. Dr. Brandon also loves food and enjoys checking out new restaurants. A big Steelers fan, he attends games when he can.
His mother Theresa, older brother Perry and two younger sisters Courtney and Amber also play important roles in his life. Dr. Brandon particularly appreciates how his mother, a single mom for most of her life, provided for her children. He also learned from Perry the importance of dedication and putting in the time and effort to reap benefits in life.
Take that first step toward feeling fantastic. Contact our North Royalton practice today to schedule an appointment with Dr. Brandon!
---
Dr. Brandon James | (440) 230-2300