Pregnancy Care in North Royalton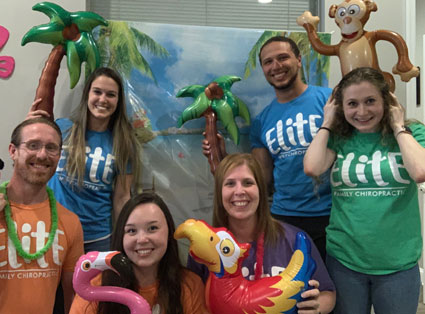 Every expecting mom wants to have a happy, healthy pregnancy. Have you considered the importance of your nervous system in determining your pregnancy and birth outcomes? The research is clear: when your nervous system is stress-free, you're less likely to have interventions during your birth, which put you and your baby at risk. There's also a higher likelihood of your child having neurodevelopmental challenges when more interventions are used.
A Better Pregnancy and Birthing Experience
At Elite Family Chiropractic, we provide the safe care you need to have a high-functioning nervous system and improve your pregnancy experience. Our care also gives your baby a better chance to move around and get into an ideal birth position. You'll find that you're able to sleep well and remain comfortable during pregnancy while under chiropractic care. When you feel better, you have the best chance at a complication-free labor and delivery.
When you become a patient, your first visit will involve a discussion with your chiropractor. You'll talk about your goals and history. Then, we'll perform a complete physical and neurological exam, as well as take neurological scans to analyze how your body is handling the stress of pregnancy. We want to take our time to analyze this data, so we'll invite you back for a second appointment for a report of findings.
At your next visit, we will discuss your plan of care. That plan is tailored to achieving your individual goals and optimizing your pregnancy for you and your baby. You'll also learn about recommendations we have for you outside of the office, such as nutritional changes, exercise or other practitioners you can benefit from working with.
The frequency of your visits will depend on your neurological scans, which stage of pregnancy you're in and the position of your baby. From your scans, we have objective measurements of your nervous system function. We'll recommend that you see us as appropriate based on each of these elements.
For your adjustments, we have specialized tables and pregnancy pillows that allow you to lie facedown. We have several techniques that work well for expecting moms, including the Webster Technique.
Your Support During Pregnancy
We look at our role during your pregnancy as far more than giving you adjustments. We want to facilitate your ability to have the labor and delivery outcomes you wish for. Contact us today to get Elite Family Chiropractic on your team!
CONTACT US »
---
Pregnancy Chiropractor North Royalton OH | (440) 230-2300